Tiffin Indian Cuisine gets its name from an informal British word that means lunch or any light meal. With nine locations (and growing) in Pennsylvania and New Jersey, Tiffin also means delicious!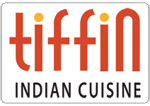 According to a survey by the National Restaurant Association, today's consumers are dining out not only for special occasions but as an integral part of their daily lives. Nearly half of Americans who enjoy dining out reveal that they search constantly for stimulating new tastes, and that ethnic cuisine is where they look.
Tiffin Indian Cuisine is the brand of choice for investors looking to expand their portfolios in a dining landscape that is saturated with burgers and pizza. Indian food is a fast growing trend not just because it's a different choice, but because long time and newbie diners are captivated by the combination of flavors that are at once familiar and exotic. Tiffin has further capitalized on this movement by offering uncompromising standards for food quality and implementing technological advances almost unseen in the world of Indian food.


Tiffin Indian Cuisine's start-up costs are very competitive and fees associated with franchising the brand are modest. We work with each of the owners to offer full operational, technical and marketing support, with a true desire to make you successful. For more information on how the Tiffin brand can integrate into your franchising plans, contact us today at franchise@tiffin.com.