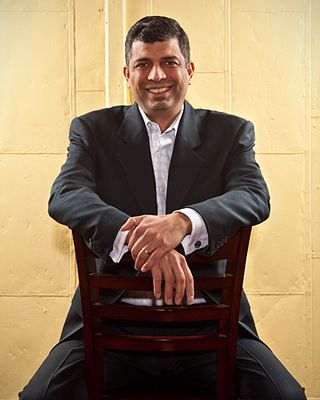 Munish Narula, a former investment banker and a Wharton MBA, is the founder and president of Narula Restaurant Group. He earned a Bachelor of Science in Hotel Restaurant Management and a MS in Hospitality Administration from Johnson and Wales University, and soon Mr. Narula started working for a full service chain restaurant where he quickly moved up the ladder to reach the position of Area Manager with 11 restaurants under his management. After earning a MBA degree in Finance from Wharton and a stint with bulge bracket Investment Bank, he came back to the food service business when he founded the now nationally acclaimed Karma restaurant in Philadelphia. It was during his time with Karma that he identified the need of providing fresh, nutritious Indian food to people at affordable prices, and so the idea for Tiffin.com was born.
The concept of Tiffin.com was modeled after the famous delivery service of Mumbai, India, in which "Tiffin" refers to the Indian practice of delivering homemade lunches in metal canisters. Tiffin wallahs, carriers of the lunches, are revered for their efficiency as they dash from a home kitchen to work or school.
The company began as a web only and delivery only service operating out of a small store front in the Northern Liberties area of Philadelphia, and soon evolved into maybe the first multi-platform restaurant in the country, offering full service dine-in, carryout, and delivery, all from the same location. The successful formula led to the opening of the second location in Mt. Airy, followed by Elkins Park, Wynnewood, and Bryn Mawr. Then came Tashan, Tiffin's high-end Indo-French sister restaurant located on the Avenue of the Arts in Philadelphia, and then Tiffin Bistro, which took the Tiffin concept and added a full bar. Most recently, Tiffin has opened three locations across the Delaware River in New Jersey, in Cherry Hill, Voorhees, and East Hanover. All ten restaurants were opened within nine years of Tiffin's founding in 2006.
Tiffin has often been credited with the explosion in the popularity of the Indian food in the greater Philadelphia area by leading magazines and publications. Since Tiffin.com's founding, 36 Indian restaurants have opened in the metropolitan area, many of which are owned or operated by Mr. Narula's former employees.
Through its continued growth and evolution, Tiffin strives to challenge the American misconceptions about Indian food, and increase its accessibility to all generations and demographics in the region, while always maintaining its primary goal of providing exceptional service and delicious food.