Indian Restaurant 19123 Philadelphia PA Cherry Hill New Jersey 08003
Review all Tiffin Locations on Facebook
Date: 7-01-19
Location: Tiffin Headquarters
710 W. Girard Ave Northern Liberties Philadelphia 19123
Love your favorite store and want to tell us? You can do a Facebook Like or Review right from our website! Next time you're ordering attiffin.com, jump over to the blog and you can Like or Review your favorite location...or all 10 locations! Click on the image below and check it out, hit the Like button or let us know how we're doing.

Tiffin Indian Cuisine Locations:  Northern Liberties, South Philadelphia, Mt. Airy, King of Prussia, Elkins Park, Newtown Square, Bryn Mawr, Wynnewood, Cherry Hill and East Hanover Morris County
Like and share this blog page
710 W. Girard Ave Philadelphia PA 19123
Tiffin Northern Liberties 19123 delivers to the following neighborhoods and zip codes:

Fishtown 19125, Spring Garden 19130, Fairmount 19121, Old City 19106, Middle City West 19103, Middle City East Center City 19107, Rittenhouse Square, Center City West 19102, City Hall 19105, School District of Philadelphia 19108, Temple University 19122
254 W. Dekalb Pike King of Prussia, Pennsylvania 19406
Tiffin Northern King of Prussia KOP delivers to the following neighborhoods and zip codes:
King of Prussia 19406, Abrahams, Lowell Hills, Dartmouth Hills, Valley Forge Towers, Gulph Mills Gulph Mills Village, Trooper Audubon 19403 The Estates of Audubon South, The Estates of Audubon North, Audubon Gardens, Colony Arms, Jeffersonville & Westover Club West Norriton, Conshohocken Station and Conshohocken 19428. Chester Springs 19425, Whitpain Manor and Penllyn 19422. Plymouth Meeting, Plymouth Valley 19462. Black Horse, Norristown 19401
202 S. Newtown Street Rd Newtown Square, PA
Tiffin Indian Cuisine delivers to Newtown Square Delaware County 19073, Edgmont, Winderly, Edgmont Township, Aronwold. Wyola, Willistown. Willistown Hunt. Devault, Frazer, Malvern 19355 Exton, Franklin Center 19341 White Horse 17527 Lima, Rose Valley, Media, Upper Providence Township 19063, Chesterbrook, Willowburn, St Davids 19087, West Goshen Hills, West Goshen, Woodcrest, Caswallen 19380, Westtown Acres, Woodcock Farm 19382, Wayne 19089, Greenbriar at Thornbury 19342, Aldham 19460. Gladwyne 19035, Immaculata 19345, Gradyville, Glen Mills, West Chester, Paoli.
Catering & Large orders to Chester County, Devon, Berwyn 19312, Paoli 19301, Immaculata 19345 Concordville
Click here for Tiffin Newtown Square Menu
Tiffin Indian Cuisine
Byrn Mawr PA 19010
847 Lancaster Ave Bryn Mawr, Pennsylvania
Tiffin Bryn Mawr Delivers to the Main Line in Delaware & Montgomery County 19010 Havertown, Haverford, Haverford Township, Villanova 19085, Strafford, Bryn Mawr College, Harcum, Rosemont, Radnor., Wayne St. Davids 19087
Tiffin Indian Cuisine
Wynnewood PA 19096
50 E Wynnewood Rd Wynnewood, Pennsylvania
Mainline at Ardmore 19003 Bryn Mawr 19010 Wynnewood Radnor Narberth Penn Valley Wayne Bala Cynwyd Gladwyne Villanova
Ardmore Park, Ardmore 19003 Penn Valley 19072 Penn Valley 19072 Garrett Hill, Gladwyne 19035 Cynwyd, Bala Cynwyd 19004 Cynwyd Estates, Merion Station 19066 Haverford 19041 Haverford Township Narberth Montgomery County Overbrook, City Line Avenue Philadelphia
Tiffin Indian Cuisine
South Philadelphia 19147
1100 Federal Street Philadelphia, PA 1947
Tiffin Indian Cuisine South Philly delivers to these neighborhoods and zip codes. Call for large orders outside our delivery area.
South Philadelphia West, South Philadelphia East, Italian Market Queen Village Hawthorne Southwark 19147
Pennsport. Fitler Square, Passyunk Square, Grays Ferry Rittenhouse Square. Forgotten Bottom Schuylkill 19146. Packer Park 19145, Lower Moyamensing 19148. Rittenhouse 19103. Rittenhouse 19144, University City 19104, Old City 19106, 19107, 19140, 19112, 19139
Tiffin Indian Cuisine Cherry Hill NJ 08003
1892 Marlton Pike E Cherry Hill, New Jersey
Marlton Haddonfield Cherry Hill Township Ashland, Golden Triangle, Kingston Estates Society Hill Springdale Willowdale Woodcrest Erlton-Ellisburg Windsor park
Tiffin Indian Cuisine
Elkins Park 19027
8080 Old York Rd Elkins Park, Pennsylvania 19027
Abington Township 19027 Tiffin Old York Rd 611 Melrose Park Jenkintown, Wyncote Glenside Kennedy House Rydal Hollywood Abington Cheltenham Montgomery County
Tiffin Indian Cuisine
Mt. Airy 19119
7105 Emlen St Philadelphia, Pennsylvania
Tiffin Mt Airy would deliver catering order to Mt Airy, Wissahickon Chestnut Hill Wyndmoor Lafayette Hill Allen Lane West Mount Airy Morton Andorra Roxborough Manayunk Blue Bell Hill
tiffin indian cuisine
Philadelphia Testimonials
Tiffin is great. Don't take our word for it, listen to customer:
yang tamang
★★★★
★
6/26/2019
I found this restaurant online. The restaurant also has an outdoor sitting for fairer weather which is great ! food was excellent so fresh and delicious. That mango lassi is refreshing perfect for this kind of weather!They also got little Tiffin menu which is good for kids.Great service...waitress was friendly after we were served,they stopped at our table often with the smiley and happy-face .This place won't disappoint .we are definitely coming back again.
Jospeh Benenhaley
★★★★
★
6/23/2019
Lovely food and inviting staff. Love their naan.
Daja Forrest
★★★★
★
6/20/2019
The Biryani was amazing. Will be visiting again. This is going to be my go to spot for Indian food.
melissas santiago
★★★★
★
6/18/2019
Amazing! Best Indian food we have ever had!
BUY A TIFFIN GIFT CARD HERE
202 S. Newtown Street Rd
Newtown Square, PA 19073

We deliver up to 5 Miles from our location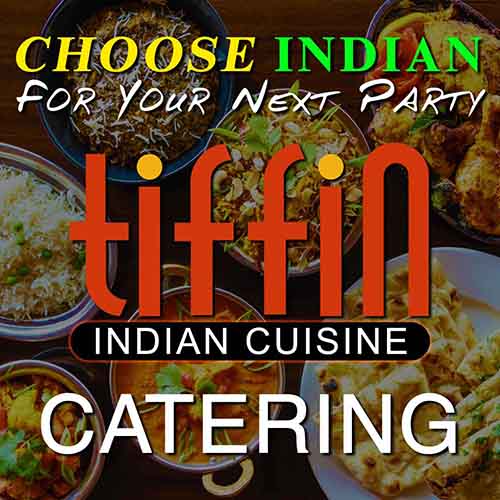 Indian Food Catering in Philadelphia, Cherry Hill, East Hanover, New Jersey, Delaware& Montgomery County Pennsylvania
710 West Girard Avenue
Philadelphia, PA 19123
We cater throughout the Delaware Valley, parts of South Jersey and beyond! Call (267) 825-0302 (for catering only), email us catering@tiffin.com or call your favorite tiffin location.
Our headquarters is located at 710 W. Girard Avenue in Northern Liberties section of Philadelphia. We have 9 locations: Northern Liberties, South Philadelphia, Mt Airy, Elkins Park, King of Prussia, and on the Main Line Bryn Mawr, Wynnewood & Newtown Square. Our Indian Food Catering Menu is located HERE