Indian Restaurant 19123 Philadelphia PA Cherry Hill New Jersey 08003
Review all Tiffin Locations on Facebook
Date: 7-01-19
Location: Tiffin Headquarters
710 W. Girard Ave Northern Liberties Philadelphia 19123
Love your favorite store and want to tell us? You can do a Facebook Like or Review right from our website! Next time you're ordering attiffin.com, jump over to the blog and you can Like or Review your favorite location...or all 10 locations! Click on the image below and check it out, hit the Like button or let us know how we're doing.

Tiffin Indian Cuisine Locations:  Northern Liberties, South Philadelphia, Mt. Airy, King of Prussia, Elkins Park, Newtown Square, Bryn Mawr, Wynnewood, Cherry Hill and East Hanover Morris County
Like and share this blog page
710 W. Girard Ave Philadelphia PA 19123
Tiffin Northern Liberties 19123 delivers to the following neighborhoods and zip codes:

Fishtown 19125, Spring Garden 19130, Fairmount 19121, Old City 19106, Middle City West 19103, Middle City East Center City 19107, Rittenhouse Square, Center City West 19102, City Hall 19105, School District of Philadelphia 19108, Temple University 19122
tiffin indian cuisine
Philadelphia Testimonials
Tiffin is great. Don't take our word for it, listen to customer:
yang tamang
★★★★
★
6/26/2019
I found this restaurant online where they just started brunch only for weekend ...weekdays are regular menus. The restaurant also has an outdoor sitting for fairer weather which is great ! food was excellent so fresh and delicious. That mango lassi is refreshing perfect for this kind of weather!They also got little Tiffin menu which is good for kids.Great service...waitress was friendly after we were served,they stopped at our table often with the smiley and happy-face .This place won't disappoint .we are definitely coming back again.
Jospeh Benenhaley
★★★★
★
6/23/2019
Lovely food and inviting staff. Love their naan.
Daja Forrest
★★★★
★
6/20/2019
The Biryani was amazing. Will be visiting again. This is going to be my go to spot for Indian food.
melissas santiago
★★★★
★
6/18/2019
Amazing! Best Indian food we have ever had!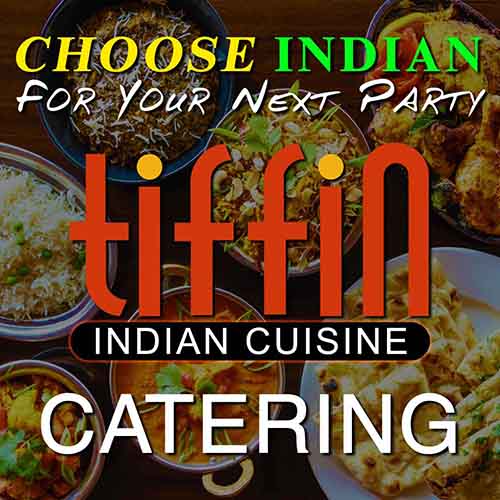 Indian Food Catering in Philadelphia, Cherry Hill, East Hanover, New Jersey, Delaware& Montgomery County Pennsylvania
710 West Girard Avenue
Philadelphia, PA 19123
Call to order catering only (267) 825-0302
Tiffin typically delivers Catering and Large delivery orders up to five miles from location. Our headquarters is located at 710 W. Girard Avenue in Northern Liberties section of Philadelphia. We have 10 locations: Northern Liberties, South Philadelphia, Mt Airy, Elkins Park, King of Prussia, and on the Main Line Bryn Mawr, Wynnewood & Newtown Square. For large orders call your local Tiffin Locations. For Catering call (267) 825-0302. Our Indian Food Catering Menu is located HERE