Indian Food Delivery to Elkins Park Montgomery County Abington Township PA
For Tiffin Locations Click here.
Tiffin Indian Cuisine Nutritional Info
Tiffin has computed the nutritional value of our regular menu. You can also Download a PDF of these images below
Tiffin Indian Cuisine Testimonials
Read What Our Customers Have To Say About Eating At Tiffin:
Janel L ★★★★★
Elkins Park, Pennsylvania 19027
Reviewed September 12, 2016

Great authentic Indian Food

I have eaten at Tiffin numerous times, and have prided myself on trying something new each time. Each time they have not disappointed with their food. It is fresh and the Indian spices are absolutely delicious!! Good food for great prices and friendly service!! Date of visit: July 2016
susanb901 ★★★★★
Reviewed December 10, 2015 via mobile

Delicious food and atmosphere

This is our go to restaurant for Indian food. The food and service is consistently wonderful. I especially love the butter chicken and the chicken masala. It's byob too!
Date of visit: December 2015
hdlterp ★★★★★
Abington, PA 19001
Reviewed November 14, 2015 via mobile

Excellent Indian food
My son has eaten he several times and asked me to go with him to try it for myself. I enjoyed the food immensely! I do not care for spicy food as I feel it hides the true taste. The chicken Tikka masala was out of this world and I had plenty left for lunch the next day. The basmati rice was a great compliment to the main dish. We ordered Naan with a cheese filing which my son wanted. It was good but I prefer plane naan. My son had a chicken and onion tomatoes dish simile to mine but with different spices.
Date of visit: November 2015
Paulb19027 ★★★★★★
Elkins Park, Pennsylvania 19027

Reviewed May 28, 2014
Excellent Indian food to eat in or take out
The food here is wonderfully prepared, always consistent and reliable and their take out makes for a great home cooked meal taste.
Date of visit: April 2014
BetsyR19130 ★★★★★★
Philadelphia, Pennsylvania
Reviewed September 10, 2015

A wonderful find!

Unexpectedly stopped into this establishment for lunch and was thoroughly pleased. The food was freshly prepared, beautifully seasoned and presented well. Our waiter was polite and attentive, without hovering. The pleasant atmosphere and cleanliness are other reasons to return.
linlnk2u ★★★★★
Elkins Park, Pennsylvania 19027

Reviewed June 29, 2016

very delightedly surprised

Just recently had delivery and food came piping hot and delicious. this is not usually the case with delivery. we were so happy. will do this often. thank you Tiffin. We are telling everyone
Date of visit: June 2016
bruce g ★★★★★
Elkins Park, Pennsylvania 19027
Reviewed July 26, 2016

good limited menu

we eat here somewhat often so we must like it though the menu is rather limited and the restaurant is not air conditioned. I don't know why. what they serve they do it well so if the food is your deciding factor go. décor is pleasant and dining room is spacious and never crowded, food is served quickly and always with pleasant servers
Date of visit: June 2016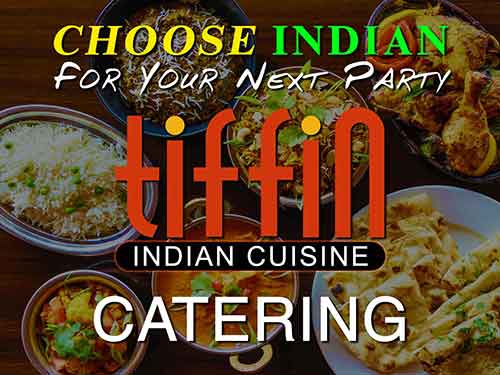 8080 Old York Road Elkins Park, PA 19027
Call to order catering only (267) 825-0302
We will deliver up to 5 miles within Montgomery County PA for lunch & dinner deliveries and also Indian Food Catering. Corporate / Business lunch specials. Call for Lunch menu offerings daily and may differ at each Tiffin location and day of the week. You may order lunch specials or see our catering menu here.
We deliver, but not limited to, these following locations: Melrose Park Jenkintown, Wyncote Glenside Kennedy House Rydal, Hollywood, Abington Cheltenham. If you are not located in these places, call your local tiffin indian cuisine here to see if you are close enough for a delivery.