King of Prussia Indian Food 19406 Blog tiffin indian cuisine
Top 5 ways to eat Indian food from tiffin indian cuisine
Date:2-13-19
Location: King of Prussia Upper Merion Township, Montgomery County, PA 19406
So many meanings assigned to one word! A tiffin is a light meal, a box to carry said light meal, even a town in Ohio! But for us it means just one thing…delicious!
All tiffin fans know that getting delicious Indian food is as easy as click, order eat! But did you know that there is more than one way to get chicken tikka masala from the bowl to your mouth? We do.

5. A big spoon – We're not talking some puny spoon used for Fruit Loops. It's a big hearty spoon that can carry mouthfuls of delicious gravy and delectable meat or veggies to its intended target

4. Your personal digits – Messy but infinitely satisfying. Who needs a middle man?

3. Naan – Soft, flexible and delicious! Rip it off and use it to capture whatever is on your plate. This technique requires a little practice kind of like chop sticks, Or use the big spoon and put a dollop right onto the bread then swoop it in.

2. Eat it straight out of the bowl – We think this is self-explanatory

1. Get a big plate and everyone share – Tiffin shouldn't be kept to yourself! Everyone get something different, pile the rice on your plate and pass those dishes around!
Tiffin is great. Don't take our word for it, listen to customers:
Andrea Howard
★★★★
★
May 2018
This is our favorite Indian restaurant.  When I found out they moved closer to our location I was so excited.  My kids get so excited when they hear that we're going to Tiffin for lunch.  The food is delicious and well-priced.  I give them 2 thumbs up!
Lisa M
★★★★
★
October 2018
Tiffin's offers really delicious Indian cuisine in a fast food setting. Delivery gives you a lot of food (one serving if Tikka Masala and naan bread usually lasts me a few meals). Eating on premise is really delightful - the servers are all very polite and they offer a BYOB setting.
Edan Isakov
★★★★
★
October 2018
Very good service and excellent Indian - my lamb Korma and garlic naan was perfectly flavored and spiced just right for me (medium) they have a good menu selection - reasonably priced - going back again tomorrow!
Sandra Jones
★★★★
★
May 2018
Amazing service!!
Great and I mean great food!!
Love this place!
Great place to take family.
Gacha Energy Donut
★★★★
★
October 2018
Great place.. great taste.. only caveat is that taste differs from same franchisee from town to town which is understandable.  I love biryani and black pepper fish. Kebab was more spicy!
S B
★★★★
★
September 2018
Delicious food as always, friendly service, a lesson in naan baking...Thank You Tiffin staff!
Anthony Ladin
★★★★
★
December 2017
Great place to grab some quality food. One of the few places to get actual spicy food in the area. I have gone several times already and it may be a few more dollars than a usual person wants to spend on their meal but it's worth it.
Bethany Bittinger
★★★★
★
January 2018
Delicious food! Great prices and quick service. I came here for a KOP restaurant week lunch. $10 for any vegetarian or chicken entree, including naan. Great deal!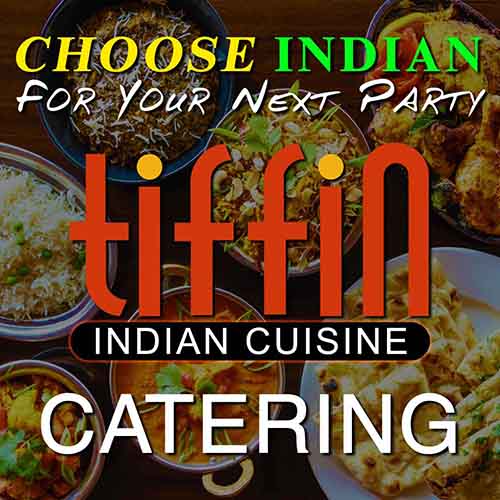 Tiffin delivers large catering orders to anywhere within a few miles of any Tiffin Location. Which includes Montgomery County, Delaware County, Philadelphia, Camden County & Morris County New Jersey.
Tiffin King of Prussia is close to Abrahams Lowell Dartmouth Hills Bridgeport Blackhorse Executive Estates Park, Wayne, Chesterbrook Norristown, Broomall PA. 19406 19073 Upper Providence 19063 For more Tiffin Locations click here